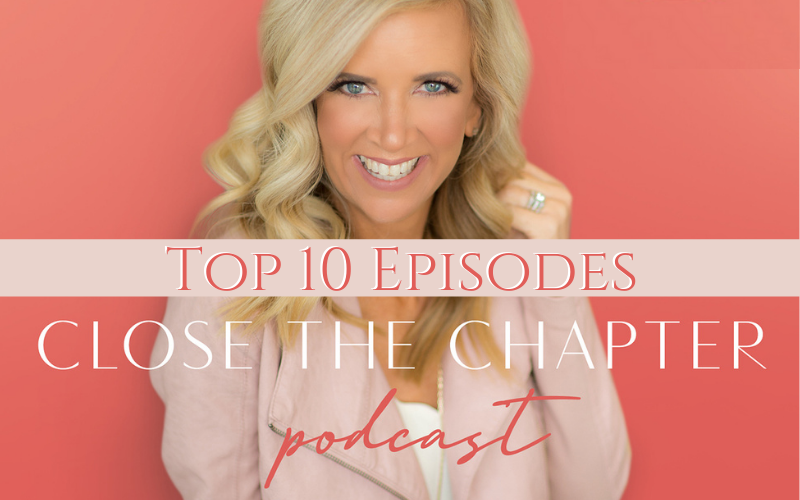 Top 10 Most Downloaded Close the Chapter Podcast Episodes in 2022
Thank you from the bottom of my heart for your continued support of the Close the Chapter Podcast! It's hard to believe the first episode aired on April 22, 2019. We have released over 193 solo and guest episodes.
My mission and goal for the podcast was and continues to be helping you find powerful, practical and purposeful tools and information to begin transforming your life. And, I want to help change the global conversation around mental health.  I hope it provides extra encouragement, support and inspiration to keep doing the hard work of healing, improving your sense of worth and value, and making sustainable changes. 
By subscribing, writing meaningful reviews, sharing episodes and posting on social media, you are making a huge difference. 
Relationships with yourself and others are the most important work we can do. By learning how to have more authentic and vulnerable conversations, you begin to create inner peace, calm, clarity, contentment and compassion.
When you feel sad, lonely, anxious, afraid, angry, joyful or excited, tune into an episode based on what you might need or just binge listen instead of watching a show. I'm available 24-7 on any podcast platform. 🙂 
Below are the 10 most downloaded episodes.
Make a commitment to take care of yourself. I'm here to cheer you on! 
#1 - Episode 47 - Healing From Childhood Emotional Neglect with Dr. Jonice Webb
#2 - Episode 148 - The Fawn Response; The Origin of People Pleasing
#3 - Episode 28 - It's Not Always Depression with Hilary Jacobs Hendel 
#4 - Episode 151 - The Freeze Response & How to Work through It 
#5 - Episode 147 - Gaslighting in Relationships
#6 - Episode 153 - 10 Tips to Overcoming Your Fear of Rejection
#7 - Episode 144 - The Hard Truths About Relationships
#8 - Episode 152 - Healing Your Insecurities
#9 - Episode 142 - How Avoidance Coping Keeps You Stuck
#10 - Episode 115 - Triangulation: A Toxic Relationship Pattern
-Kristen D Boice M.A., LMFT, EMDR Trained
Do you want to join a community of souls wanting to grow, evolve, and on a healing journey?
I would love for you to join our free Close the Chapter Facebook community and check out my YouTube Channel where I post weekly videos with Mental Health Tips.