I love speaking
to audiences
about strategies & tools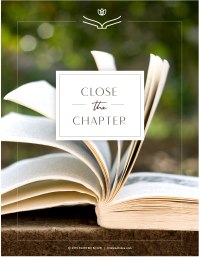 Each morning is a fresh chance to start again.
The Close the Chapter Journal, a gentle 5-day journey to help you open the door to what's next.
Drop your name + email below to get your FREE gift delivered straight to your inbox:
I love speaking to audiences about strategies and tools that can help them navigate life transitions, and overall feel and live better.
Over the years, I've spoken at universities, schools, corporations, nonprofits, parent groups, couples retreats, conferences, church groups, hospitals, treatment centers, and more, and I'd be honored to speak at your next event.
You can call me "the pu pu platter" of presenters—because I strive to bring positive energy and highly engaging tools, insights, funny videos and stories, and even worksheets to every event.
Each talk begins with a breathing exercise and a bit of self reflection and audience participation, and dives deep into the real, resonant stories that will help listeners navigate their own journeys, and take away gold nuggets and coping strategies they can apply in their own lives
While I speak on a wide range of topics, here are a few of my favorites:
Creating healthier relationships and connections
Navigating life transitions
Stress and overwhelm management
Parenting
Not enoughness
Reconnecting with and nurturing your childhood self
How to build more meaningful connections
The core emotion
How to release past pain and move forwards
Interested in booking me to speak?
I'm honored!
Drop your name, email, and a bit of information below, and let's connect.