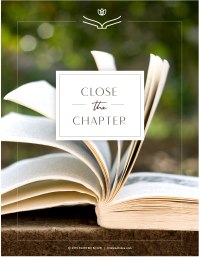 Each morning is a fresh chance to start again.
Resources and tips are waiting for you!
Click below to get your FREE Close the Chapter Journal delivered straight to your inbox along with weekly information on how to relieve stress, anxiety, including relationship communication tips and so much more.
Are you ready to put the past behind you, and open the door to the happier, healthier life you deserve?
Join the 5 week journey.
Sign up to be the first to know when enrollment is open!
I know you're ready to move forward,
my friend…
Into a world where anxiety, fear, and doubt doesn't dictate your every day—and you feel more calm, centered, and content.
Into a better understanding of how your past impacts your present, and how to let go of the stories and limiting beliefs that hold you back.
Into mutually-supportive relationships that serve you, instead of sucking your energy.
Into a mindset supported by tools and strategies that will equip you to handle future conflict and obstacles with confidence and grace.
… and I can show you the way.
I'm Kristen Boice a psychotherapist and counselor
who's spent the last 18 years helping people like you process their "stuff," so they can live a better, more fulfilling life.
And as a result? I've developed a step-by-step process for helping you close the chapter on what no longer serves you… so you can open the door to brighter, lighter possibilities.
There's just one catch:
You have to be courageous enough to step forward, and accept the challenge.
To acknowledge where you are, where you've been, and where you're going.
To understand yourself on the deepest level ever, and work with your unique triggers and needs.
And to move from where you are now, to where you want to be.
I know you have it in you. Let's begin.
Sign up to be the first to know when enrollment is open!
Welcome to:

The Close the Chapter Class
Part life-changing self-discovery journey. Part mental health coaching class.
Entirely dedicated to help you move forward into the next incredible phase of your life.
How it works:
For each of the 5 weeks, we'll meet up for an hour-long class on that week's topic, ranging from emotional triggers and beliefs, to boundaries and relationships, and your bigger vision.
After each class, you'll be given a small action step or homework assignment to deepen the work you're doing, and help you put the techniques and tools you learn about into practice.
In between, you'll have the keys to a bustling community of your fellow students, where you can swap stories, cheer each other on, and support each other through roadblocks and challenges along the way. (Having a community behind you makes all the difference when it comes to making progress on your mental and emotional health.)
And at the end of it all? You won't just have a brand new outlook on what's possible for you—you'll have the simple, powerful strategies in place that will help you cope with the stresses of day to day life, and feel clearer, calmer, and more upbeat outlook every day.
The curriculum sneak peek
While the Close the Chapter Class curriculum can change slightly depending on the needs of the group, here's a look at the curriculum overall:
Week 1: Emotions + triggers
Learn to identify the core emotions, and which emotions you experience, when, so you can begin to work through them.
Week 2: Beliefs and where they come from
Which of your beliefs are yours, and which have been given to (or forced upon) you? Learn how to disentangle yourself from the negative beliefs and fears that might belong to someone else, and begin to understand and work with your own thought processes and stories.
Week 3: Communication
This week builds on the work you've already done in weeks 1 and 2, and gives you the tools and communication strategies you need to properly relay your emotions, desires, likes, and dislikes to the people in your life, and navigate conflict.
Week 4: Boundaries and relationships
Often when we feel emotionally dysregulated, it's because we have either not set boundaries, or they're being crossed. During this week, we'll explore how to define boundaries, what you are responsible and not responsible for, and how to communicate the boundaries.
Week 5: Opening the Door
With these tools in you arsenal, what new goals and new vision for life do you have? What do you want to create, and what are you capable of now that you're equipped to "handle hard", and clearer on who you are, what you want and need, and how to communicate it?
In this final week, I'll help you use everything you learned to create a clear, hopeful vision for the next phase of your life, so you can find out what's really possible for you.
So now the only question left is:
Are you ready to move through the hurt, pain, and fear, and into possibility?
Then it's time to step forward into the classroom.
Let the journey begin.
Sign up to be the first to know when enrollment is open!
If you are interested in the newest resources, get my newsletter that is full of resources and the lasted podcast episode by clicking HERE.