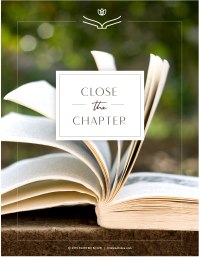 Each morning is a fresh chance to start again.
Resources and tips are waiting for you!
Click below to get your FREE Close the Chapter Journal delivered straight to your inbox along with weekly information on how to relieve stress, anxiety, including relationship communication tips and so much more.
There's much to talk about! Join me in exploring some topics that may be on your mind and holding you back. We are all living through an incredibly unprecedented time and experiencing emotions of loss and uncertainty every day. I care about you. I want to share with you how you can get unstuck. Let me guide you through this chapter of your journey into the next.
A new chapter…
A new opportunity…
New possibilities...
A new perspective...
A new you--the true, authentic you.
Don't just be a part of your story... be present to create your story. Close the chapter and move forward in the direction you want regardless of the past.
Join us as we dive deep into processing these experiences and emotions and discuss how we can meet them with openness, non-judgment, and curiosity.
New videos are available every month.
Past videos include a variety of topics such as:
Relationships

Managing fear, grief, loneliness, and anxiety

Processing and healing trauma

Emotional wellness and self-care

Navigating negativity

Parenting and creating connection with your kids

Building confidence in your children

Healing childhood emotional neglect
And so much more!
I want to empower you with knowledge and tools. I'm here for you, to guide you and give you what you need to create new chapters where you rise up to be the author of your own story. Remember: each morning is a fresh start, so take it one breath at a time.
To make sure you do not miss any new videos… subscribe to my channel HERE and click the bell icon to be notified as soon as a new video is uploaded.
Start your week off right with a dose of understanding, clarity, hope and possibilities! We're bringing you Mental Health Mondays with tips and insights on understanding the world around us, connecting with others, and finding the path to our authentic selves.
Some topics covered so far include:
Dealing with your family's emotions during an upheaval in life
Having important conversations about difficult and challenging topics
Learning stress-relieving breathing exercises
How to work through disappointment
How to process emotions through the holidays
Ways to improve your relationships
Moving through transitions, grief and loss
New videos added monthly!
Pathways to Healing Counseling
Sometimes managing emotions can be as simple as taking a single deep breath in before reacting or responding.
Change can be hard, but you don't have to do it alone.
Your moment to move forward is now, and I will help you take that first step.
Take a moment. Let's turn the page.
Your moment to move forward is now.
I know it takes courage to choose to walk through the doorway to the future and leave the past in the past.
I have resources and tips to help you on your journey.
As soon as you click "I'm Ready," a confirmation email will be on its way to your inbox, and you'll be one step closer to the life you want to live.