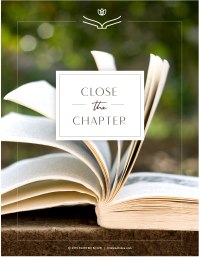 Each morning is a fresh chance to start again.
The Close the Chapter Journal, a gentle 5-day journey to help you open the door to what's next.
Drop your name + email below to get your FREE gift delivered straight to your inbox:
Interested in seeing me speak?
Curious about when I'm leading my own workshops, retreats, or events?
Take a peek at the calendar below for the most up-to-date information on what I'm up to:
Event Name Goes Here
Location Name @7:00pm
Here's a description of the event, what's going to happen, what to expect. Here's a description of the event, what's going to happen, what to expect. Here's a description of the event, what's going to happen, what to expect. Learn more
Event Name Goes Here
Location Name @7:00pm
Here's a description of the event, what's going to happen, what to expect. Here's a description of the event, what's going to happen, what to expect. Here's a description of the event, what's going to happen, what to expect. Learn more