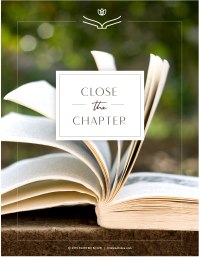 Each morning is a fresh chance to start again.
Resources and tips are waiting for you!
Drop your name + email below to get your FREE Close the Chapter Journal delivered straight to your inbox along with weekly information on how to relieve stress, anxiety, including relationship communication tips and so much more.
Interested in seeing me speak?
Curious about when I'm leading my own workshops, retreats, or events?
Take a peek at the calendar below for the most up-to-date information on what I'm up to:
Event Name Goes Here
Location Name @7:00pm
Here's a description of the event, what's going to happen, what to expect. Here's a description of the event, what's going to happen, what to expect. Here's a description of the event, what's going to happen, what to expect. Learn more
Event Name Goes Here
Location Name @7:00pm
Here's a description of the event, what's going to happen, what to expect. Here's a description of the event, what's going to happen, what to expect. Here's a description of the event, what's going to happen, what to expect. Learn more